Mangla Steel Udhyog Pvt. Ltd. is an ISO 9001:2008 certified company that manufacture and supply wide range of Pressure Vessels in the market at very low prices for storage and transportation of various Liquefied Gases and Petroleum products that include Liquid Co2, LPG, Propane, Ammonia, Nitrogen, Oxygen and other gases used in various industries. These tanks are manufactured of various capacities ranges from 0.5 m3 to 150 m3 and are horizontally or vertically mounted as per the customer's requirement.
Our work shop is approved by the CHIEF CONTROLLER OF EXPLOSIVES, NAGPUR to carry out the manufacturing activities for these types of pressure vessels. Mangla Steel has the best of knowledge and resources to manufacture these tanks right from the designing to the testing and installation as per the various codes such as IS 2825, ASME Sec-VIII Div.1, ASME Sec-VIII Div.2 and PD 5500. We presently have a variety of tanks approved in different sizes and standards to facilitate customers who requires tanks on early basis.
Liquid CO2 Storage Tank
Liquid CO2 Transport Tank
Ammonia Storage Tank
ISO Tank
Dry Oxygen/Nitrogen Tank

LPG/Propane Tank

Spheres
---
LIQUID CO2 STORAGE TANK :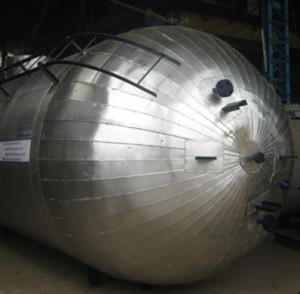 Mangla Steel is engaged in manufacturing and supplying of wide range of Liquid CO2 Storage tanks with capacity varies from 1 M3 to 150 M3 used in CO2 recovery plants, filling plants and other industrial applications at reasonable price. These Co2 storage tanks can be PUF (Polyurethane Foam) or Vaccum Insulated depending upon the specific application and frequency of usage.  CO2 storage tanks are available both in Horizontal as well as vertical arrangements depending on the space available and the customer's need keeping in view the norms of SMPV(U) Rules 1981.
We carry out Mechanical Design Calculations and prepare the Fabrication Drawings get it certified by reputed international Third party inspection agency like DNV, BV, SGS, and MECLEC and finally approved by CCOE, Nagpur  in accordance with the provisions of SMPV(U) Rules 1981. Almost care is taken for the quality of raw material and it is confirmed that the material should be Impact tested at -46⁰C. Finally, the liquid storage tanks are equipped with various control devices such as Valves, Safety valves, Pressure gauge, Piping Arrangement, Pumping facility, Chiller/Refrigeration Unit as required by the customer. We undertake complete Design, Material Procurement, Supply, Fabrication, Erection, Inspection, Testing & Commissioning of Liquid Co2 Storage and transport tanks.
Our range of Liquid CO2 Storage Tanks includes:
Horizontal Carbon Dioxide Storage Tank(Up to 150 M3)
Vertical Carbon Dioxide Storage Tank(Up to 50 M3)
Skid mounted Portable Carbon Dioxide Storage Tank(1-2 M3)
 Technical Specification:
Design Code: IS 2825, ASME Section VIII Div.1, ASME Section VIII Div.2, PD 5500
Design Pressure: 24-28 Kg/Cm2
Design Temperature: -45O C to +55O C
Salient Features:
Manufactured from low temperature material (Impact tested at-460C)
Differential pressure liquid level indicator to indicate liquid level in mm WC. A corresponding chart is provided to determine the tentative quantity of liquid in Kgs
Optional Load cell weighing system to get accurate quantity of liquid in Kgs
Two nos. of safety valves as per CCOE norms to discharge excessive pressure with sufficient orifice area
Ergonomic designed piping layout for ease of access, operation & maintenance
Customized filling and delivery connections
Refrigeration auto control cooling unit to maintain the temperature inside the tank (Optional)
200 mm thick PUF Insulation with 20 gauge aluminum sheet cladding
---
LIQUID CO2 TRANSPORT TANK  : 
Mangla Steel also offers Liquid CO2 Transporter Tankers widely used for transportation of Liquid CO2 from one place to another. These tanks are provided with 200 mm thick PUF Insulation to avoid evaporation and are fitted with flanges, safety fitting, pump and other accessories at the back inside the lockable cabin as per the CCOE norms. We also provide Liquid Reciprocating pump of required capacity along with the tank to facilitate the filling of tank.
All documentations are provided to take the necessary approvals from CCOE and Road Transport Authority.
---
AMMONIA STORAGE TANK  : 
Mangla Steel is a manufacturer and exporter of ammonia storage tanks. We provide ammonia storage tanks that are horizontal or vertical type with capacity from 1 to 150 M3. Ammonia is used as an element for manufacturing many different chemicals and products. The tanks are provided with all accessories like, internal valves, pipelines, Excess flow valves safety fittings, valves as per requirement. The unit comes with all safety features as per norms.
Technical Specification:
Design Code: IS 2825, ASME Section VIII Div.1, ASME Section VIII Div.2, PD 5500
Design Pressure: 21-25 Kg/Cm
Design Temperature: -33 Deg C to +55 Deg C
---
ISO TANK  : 
Mangla Steel is one of the top manufacturer and exporter made in India for ISO tank, Gas tanks, liquid storage tanks, LPG tank container, Cement tank container, Storage tank container, Fuel tank container etc.  All tanks are built and designed to the highest quality and strictly with the latest international approvals and standards.
 ISO tank means a portable tank fitted with pressure-relief devices which are used for non-refrigerated gases. We have Liquid tanks, Gas tanks and Storage tanks in different sizes. Also we can modify the tanks to clients wish. We provide ISO and ISO tanks with certificates or in storage condition. We also assist in the transportation, mediation and customs clearance.
 ISO Tank is commonly used to Transporting non-refrigerated liquefied gases such as refrigerant gas, butane and LPG (Liquid Petroleum Gas). Tank containers for pressurized liquefied gases usually have a mild steel pressure vessel shell. These tanks containers also referred to as ISO tank containers are suitable for the safe storage and transport of both hazardous and non-hazardous bulk liquid and gas commodities. Available lined and insulated for refrigerated and some corrosive substances. Especially suitable for LPG/LNG transport and on-site fueling and storage operations.
 ISO divides liquefied gases into the following groups:
---
OXYGEN/NITROGEN TANK  : 
We manufacture Oxygen and Nitrogen Gas tanks of various capacities ranging from 1 M3 to 100 M3 in horizontal and vertical orientation. The tanks are double walled with annular space having insulation or vacuum. The unit comes with all safety features as per CCOE norms. Evaporation loss is negligible due to high grade of insulation/vacuum. The tanks are designed to store liquid to – 196 Deg C and provided with safety valves and bursting disc for additional safety.
Technical Specification:
Design Pressure: Up to 24 Kg/Cm2
Design Code: PD IS 2825, ASME Section VIII Div.1, ASME Section VIII Div.2, PD 5500
Design Temperature: -196 Deg. C
---
LPG/PROPANE TANK  : 
---
SPHERES :