MANGLA STEEL is a remarkable entity engaged in Tunnel form work Gantry of any shape and size of tunnel starting from designing, fabrication, trial assembly and erection and commissioning at site to provide complete satisfaction to the customer. We have supplied several Gantries for HRT, TRT, CCVT, Surge Gallery, Bus Duct at various Hydro-electric projects in India ranging from 3 M to 10.5 M Diameters and 12 M standard length.
Our team of expertise works on 3-D software for the complete demonstration of the Gantry to the customer before starting the work. After finalization and customer's approval, fabrication drawings are prepared for each component of the form work like wheel assembly, shutter panel, traveler, concrete feeding arrangement, vibrators, hydraulic jacks, turn buckle, power pack etc.
---
TUNNEL FORM WORK GANTRY: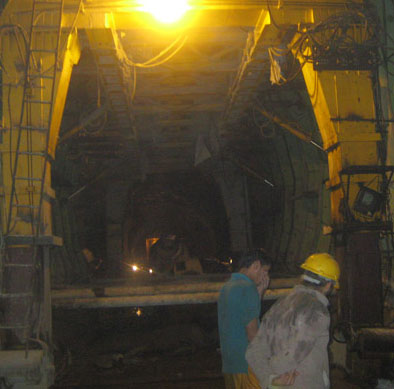 SALIENT FEATURES:
Quick and easy assembly
Ergonomic designed piping layout for ease of access, operation & maintenance
Troubleshooting operation
Aesthetic finish of concrete lining
Best after sales services
Cost effective
---
KERB SECTION
HYDRAULICALLY OPERATED KERB SHUTTER : 

It is common practice to cast kerb along both side of the tunnel before casting the Overt shutter. Irrespective of the shape of the tunnel, kerb shutter is usually divided into arch panel that are operated manually which slow down the process.
MANGLA STEEL offers hydraulically operated kerb shutter for fast production, better finish and avoid excessive use of labor. This is equipped with hydraulic motor and gear box, hydraulic jacks, power pack  and rigid structure to ease the work continuously.
---